What is the Association of Nurses in AIDS Care?
The Association of Nurses in AIDS Care (ANAC) is the leading nursing organization responding to HIV/AIDS. Since its founding in 1987, ANAC has been meeting the needs of nurses and other healthcare professionals in HIV/AIDS care, research, prevention and policy.
ANAC aims to promote the health and welfare of people affected by HIV/AIDS by:
Creating an effective, engaged network of nurses in AIDS care
Studying, researching and exchanging information, experiences and ideas leading to improved care and prevention
Providing leadership to the nursing community in matters related to HIV/AIDS infection and its co-morbidities
Advocating for effective public policies and quality care for people living with HIV
Promoting social awareness concerning issues related to HIV/AIDS
Inherent in these goals is the commitment to the prevention of HIV infection.
ANAC is made up of more than 40 chapters located around the world. It comprises a dedicated group of nurses, healthcare professionals and others from around the world who are committed to HIV/AIDS nursing. These affiliate members include social workers, pharmacists, physician assistants, lawyers and doctors; i.e. anyone involved in the care and support of people with HIV and/or AIDS.
The ANAC logo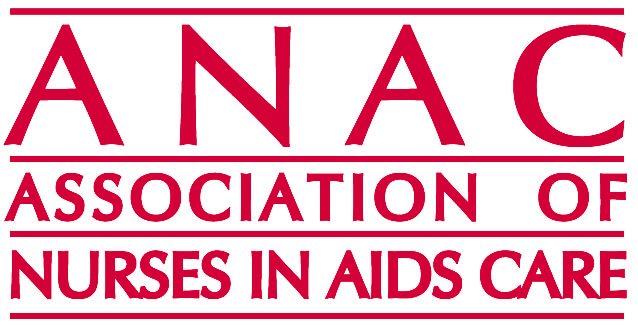 The current ANAC logo was developed in 2014 to better represent ANAC's dedication to supporting nurses and other healthcare professionals that work in or around HIV/AIDS patients, advocacy for people living with HIV (PLWHIV) and the professional development of healthcare providers in all areas of healthcare.
The letter "A" representing the word AIDS features an elongated tail, signifying that ANAC's mission extends beyond AIDS care. Diversity and different health care fields are represented by the various shapes and sizes of several ribbons of color. These bands are then interwoven forming a strong fabric of community and connectedness — in essence, forming a rich tapestry that reflects ANAC's proud history with unfinished ends that can be endlessly expanded upon. Red is the primary logo color, signifying urgency, safety, love and the physical self.