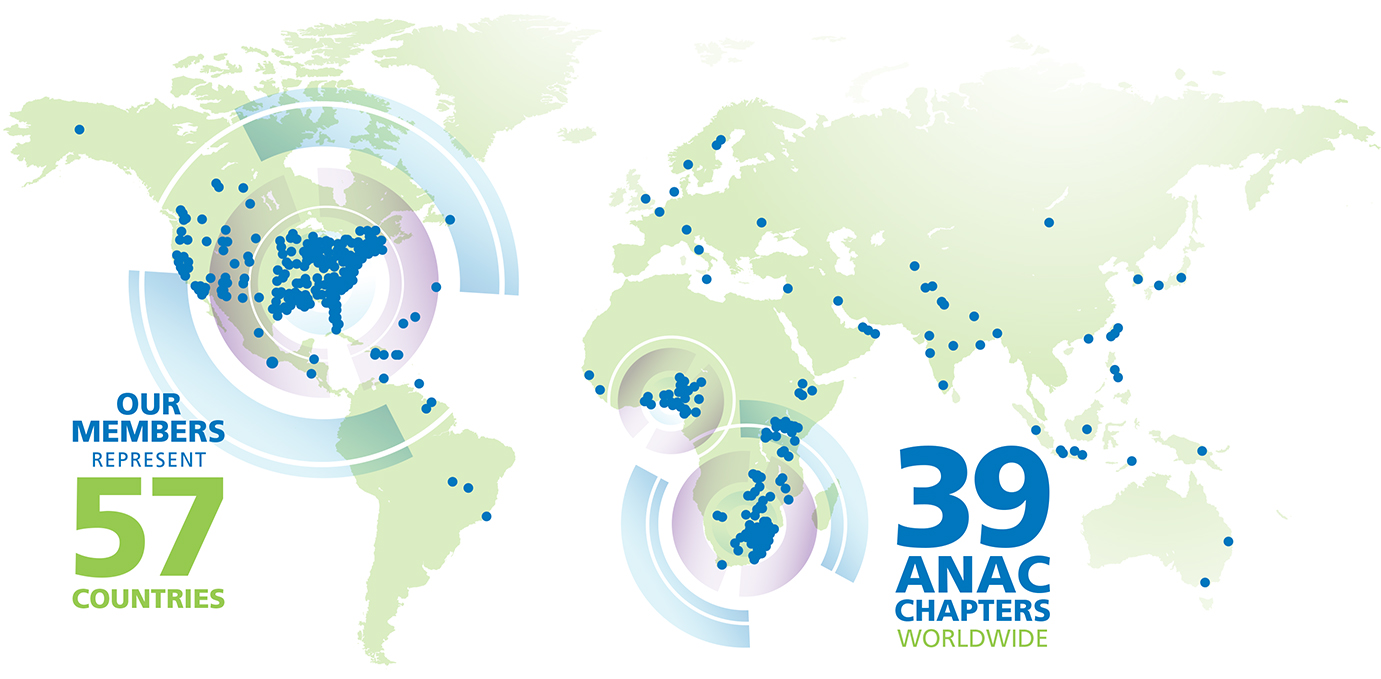 ANAC membership connects you to a network of professional nurses and other healthcare professionals on the front lines of HIV work. In addition to joining this impressive network of more than 2,200 professionals with similar goals and interests, you will enjoy the following benefits:
Automatic subscription to JANAC* (the Journal of ANAC, published by Wolters Kluwer)
Discounted rate for the ANAC annual conference
Discounted rate on the HIV/AIDS certification exam (ACRN/AACRN)
Eligibility for ANAC Clinical Achievement Awards
The opportunity to participate on a global, national and local level in activities which help shape the response of nurses to the HIV epidemic through:
- Joining an ANAC committee or work group
- Membership in one of many local ANAC chapters
- Attending regional members-only educational events
If you are interested in a corporate membership, please click here to see corporate benefits.
What types of membership are available?
If you are a current or expired ANAC member, please click here to renew your membership.
Type

Description

1 year

2 years

3 years

Active

Licensed registered professional nurses or licensed practical/vocational nurses or the international equivalent.

$99
$188
$282
Join
Join
Join
Discounted Active
Full-time students in accredited schools of nursing, retired or disabled nurses. To qualify for retired dues, you must have been an ANAC member for at least five (5) years prior to your application for retired dues. Proof of age over the retirement age is required.
$77
$144
$216
Join
Join
Join
Partner
Non-nurse individuals who support the mission of the ANAC. Nurse allies and supporters as well as pharmacists, PAs and other members of the health care team.
$99
$188
$282
Join
Join
Join

Global (Electronic)

Licensed registered professional nurses, licensed practical/vocational nurses, or the international equivalents, and nursing students who reside in low or middle income countries as defined by the World Bank.
Free
Join
Discounted Active members are entitled to the same membership privileges as active full members.
Partner members shall be eligible to vote and are entitled to the same privileges of active members, except nomination to president/president-elect. Partners may be nominated for the national offices of secretary, treasurer, and director at large, and may serve on national committees.
Global (electronic) members will only receive the Journal of the Association of Nurses (JANAC) electronically and are not eligible to vote or run for any elected national ANAC office at the national level, but may serve on committees and global chapter leadership. Global members may instead choose to join through the active, partner or active discount categories and are entitled to all the rights and benefits of membership in those categories.
Renewal information
All new and expired ANAC memberships will be effective on the day dues are received and last for 12 months for a one-year membership, 24 months for a two-year membership or 36 months for a three-year membership. If membership is renewed before the expiration date, only the year of expiration will change and the renewal will start at the end of the current membership. If membership has expired before renewal, the anniversary date will change to the day dues are received and last for 12 months for a one-year membership.