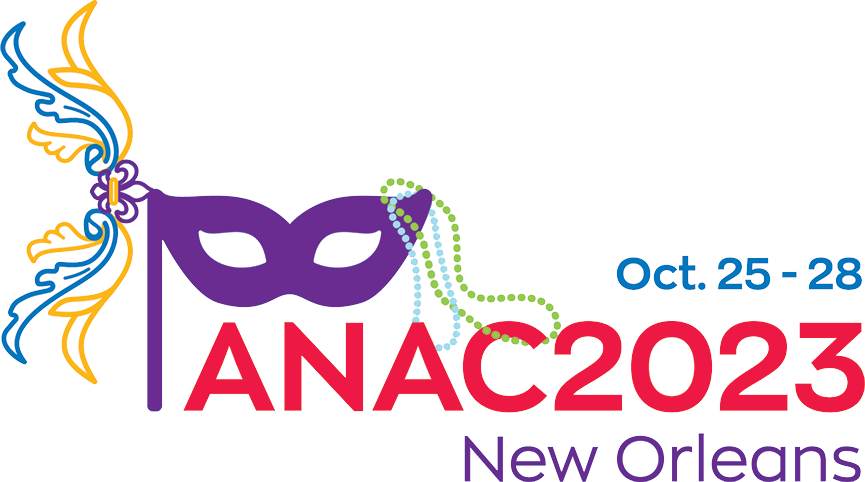 Connect and feed your soul.
REGISTER NOW TO ATTEND ANAC2023!
ANAC is heading to The Big Easy for the 2023 Annual ANAC conference. The conference brings together nearly 500 nurses, nurse educators and other healthcare providers to network and learn more about important topics like pharmaceutical breakthroughs, racial disparities, The Plan to End HIV and much more.
ANAC2023 will be held in New Orleans Oct. 26-28 with pre-conference activities on Oct. 25. View past conference highlights.
Conference Objectives
Clinical: Identify effective approaches to prevention, diagnosis, treatment &/or supportive care of people with or at risk for HIV &/or co-occurring conditions across the lifespan.
Policy: Build capacity of nurses and other healthcare professionals to effectively engage in health policy and advocacy to improve health and support people living with or affected by HIV.
Leadership: Describe nurse leadership opportunities and the impact on healthcare and society.
Global: Illustrate the impact of nurses and other healthcare professionals in addressing HIV &/or co-occurring conditions in global settings.
Research: Discuss research innovations in HIV biomedical, psychosocial, behavioral and care and delivery research.
Trends & emergent conditions: Provide updated analysis of emerging health and related issues that impact people living with or at risk for HIV and their care team
Registration includes admission to all sessions, exhibit hall, provided meals, the annual gala, Awards Dinner, Celebration of Life and satellite sessions.
| | | |
| --- | --- | --- |
| Registration Type | Early-bird Fee (Ends 7/15/23) | Registration fee after 7/15/23 |
| Member | $499 | $549 |
| Reduced rate member (Student, Disabled, Retired) | $285 | $285 |
| Non-member | $625 (Includes 1-year ANAC membership) | $699 (includes 1-year ANAC membership) |
| Daily rate | $235 | $235 |
Awards - now open
Award nominations are now open. Please consider nominating an ANAC member for one of our prestigious awards. The awards will be presented at conference in October.
Scholarships
Scholarship applications will open this summer. If you'd like to make a donation toward a conference scholarship, please use our secure online donation form.
Venue information
ANAC2023 will be held at the New Orleans Marriott. Learn more about this hotel and reserve your room now.
Cancellation Policy
All cancellations request must be made in writing. Registration cancellations received by the ANAC office on or before October 1, 2023 will receive a full refund, less a $50 administrative fee. Cancellations received after October 1, 2023 are non-refundable.