Greetings from the Chapters Committee!
In an effort to highlight some of the great work and activities that local chapters are doing, we're re-instating Chapter Chit Chat - a monthly spotlight on different chapters around the country. If you're a chapter leader and would like to share your news with other ANAC members - we'd love to hear what you're doing. For further information on how the Chapters Committee can assist your local chapter, or to become member of the Chapters Committee please email Jeff Kwong, Chair of the Chapters Committee (JeffreyJKwong@gmail.com).
Golden Gate (April 2014)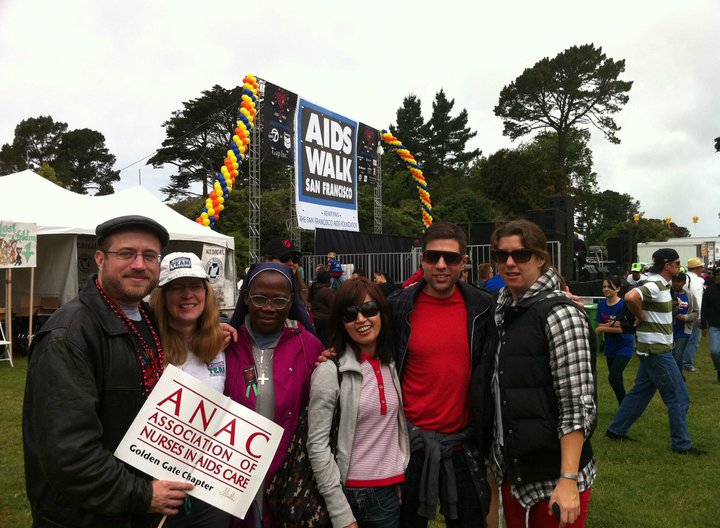 Over here at ANAC Golden Gate, we are a lively, passionate and committed bunch. We traditionally have dinner meetings on a Wednesday every month or two at local restaurants and have had some fantastic speakers! This year we have been very active, with a packed meeting every month. We've learned about the Gardner cascade, caring for people of color living with HIV/AIDS and HIV /Hep C co-infection. Our April meeting is scheduled on HIV resistance and some other upcoming topics scheduled through the summer are PrEP, HIV & Aging and HIV and women and the upcoming single pill (name unknown) co-formulation of Dolutegravir/Epzicom. We generally start each meeting off with a rousing raffle game, chapter business and announcements which we follow with a community presentation from a local agency or group before moving on to the main speaker. At our last meeting, we were all very inspired to hear from Tez Anderson of Let's Kick ASS (AIDS Survivor Syndrome) @ letskickass.org, about the important grass roots work and advocacy he is doing with long term survivors. We at ANACGG, are a welcoming group made up of nurses of every stripe: RN's, nurse case managers, nursing students, NP's, PhD'd, clinical professors, masters in public health nurses—just to name a few. True to the San Francisco spirit, we are a diverse group in gender, gender identity, age, ethnicity, sexuality and HIV status, but primarily, we see ourselves as nurses! We have people working in community and private settings, academic faculty and individuals applying for nursing school amongst our mix. We continue to see new faces at our meetings each month, which we love! This year, I have kicked up the activity on our Facebook page, which I now hope can serve as a useful HIV information portal for all. I post articles daily about the latest HIV research, opinion pieces, community pieces and even HIV related book reviews. Check it out and join the conversation!
https://www.facebook.com/ANACGG
This year we also welcomed Chris Fox, NP into our leadership who has done a fantastic job as our community liaison and SoSon Jong, RN, PhD as our international liaison. Continuing in leadership roles are myself, Pierre Crouch, NP, PhD (secretary) and Marion Pelligrini, RN (Policy). Upcoming community volunteer activities include the Up Your Alley fair, AIDS Walk and Folsom Street fair. Our meetings are always friendly, boisterous, engaging and, most of all-fun! We invite you all to come west and check out ANAC Golden Gate the next time you are in town.
Sincerely,
Jonathan Van Nuys, NP
President, ANACGG
Central Florida (March 2014)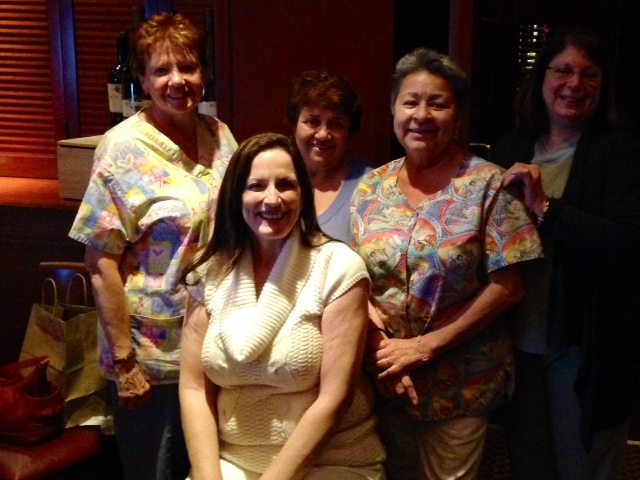 Angela Artymowycz,Monica Rutherford,Celia Gabaldon, Liliana Argueta and Michele Wetmore. Missing Jeffrey Dinsmore
The Orlando ANAC Chapter meets monthly on the 3rd Wednesday of the month. This year we had our 2014 Kick off meeting in January with a dinner meeting and presentation on HIV and inflammation presented by Roberto Ortiz, MD. We are actively working on recruitment of new members. At our last meeting we had RNs, LPNs, APRNS, Educators, Pharmacists, and Nursing students. We hope to continue recruitment and expanding to other health professionals in the community. We have several other dinner meetings in the works, as well as a potluck meet and greet for members.
Our chapter has also made donations to Nurses for Africa and the Global AIDS Interfaith Alliance. Other activities our chapter engages in include the annual Chapter Gift Basket raffle at the National ANAC Conference. We also hold monthly raffles of gift baskets to help raise funds for our local chapter.
Please visit our facebook page (CFANAC) or our webpage on the national ANAC chapter website
http://www.nursesinaidscare.org/i4a/pages/index.cfm?pageID=4542
Michele Wetmore, MSN, ANP-BC, NP-C
Chapter President
Rocky Mountain Chapter (February 2014)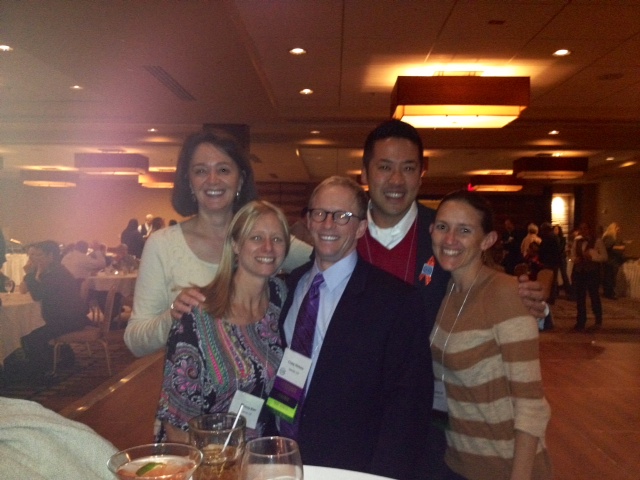 Rocky Mountain Chapter Members Karen Lyda, Whitney Starr, Craig Nielsen, Jeff Kwong and Suzy Jed
The Rocky Mountain ANAC Chapter has been meeting regularly through the fall and has started our 2014 year off with a presentation on mental illness and HIV infection. We have encouraged participation from multiple disciplines in our educational events and this has led to recruitment of new members for the chapter. The Denver metro area was widely represented at our last meeting, with representation from registered nurses, advanced practice nurses, nursing assistants, health educators, and social workers. Safety net providers were represented, as were private practice settings and community based organizations.
We also welcomed new talent and enthusiasm into our Board, with the addition of a seasoned HIV psychiatric nurse practitioner, a new nurse who has extensive HIV global experience, and a social worker on staff with the Colorado AIDS Education and Training Center.
Efforts this year will focus on diverse, multi-disciplinary educational opportunities, as well as a focus to engage both nursing and advanced practice nursing students.
Here's looking forward to a wonderful 2014 and for ANAC members and chapters.
Karen & Whitney
Greater New York Chapter (January 2014)
The Greater New York Chapter of ANAC is celebrating 25 years as a chapter this year --- 2014!!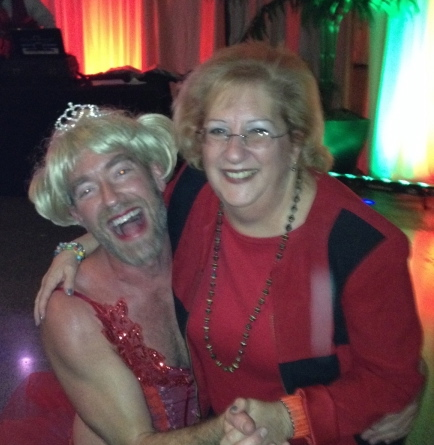 GNY ANAC Members: Carol Cohen and Erik Mortenson at the National Conference in Atlanta – November 2013
This year started off with a wonderful dinner lecture presented by Daniel P. Worrall MSN, ANP-BC, a former Boston ANAC Chapter President. His talk was on "Anal Dysplasia & HPV Related Disease." At our first meeting of the year, we also had a few new nurses attend this session.
We have several innovative dinner lectures in the planning stages for the next few months. The topics include "HIV/HCV and Co-Treatment," "Current Clinical Considerations in the Treatment of HIV/AIDS" and an update from the CROI Conference. This session will be provided by an HIV Specialist who started his career as a nurse and is now a doctor. He has been a primary care provider for people with HIV/AIDS for many years. (He will also be attending CROI this year.)
We are also participating in ANAC's Chapter Mentorship Program. We are a current mentor chapter and hope to be able to give some good guidance and ideas to our mentees.
Along with this, we are currently planning our annual local educational conference. Each year we've sponsored an all day continuing education conference attracting more than 70 local nurses, nurse practitioners, and students. Our 2014 conference is Tuesday June 10th and will be held at Baruch College in Manhattan. This year's conference will be filled with great topics and speakers, including ANAC's Chief Nursing Officer, Carole Treston, and Suzanne Willard, the national ANAC President. One very important topic that we are going to cover is "Who will be there to take care of our patients? The future of the HIV nursing workforce."
If you plan to be in New York, please plan on attending a meeting or our conference. For further information please feel free to e-mail Debbie Batson @ DebbieB@villagecare.org or call Debbie at 1-212-539-629 for information.
(Our meetings are on the second Wednesday of the month, and we would love to have visiting ANAC members attend!!!)