The purpose of the JANAC Editorial Board is:
To provide guidance and expert consultation to the editors of the journal.
The members of the Editorial Board also serve as article reviewers, column coordinators, and contributors to the content of the journal.
The Editorial Board meets for 4-6 hours at the annual conference, has one 2-3 hour conference call mid-year, and uses email communications throughout the year. Members contribute varying amounts of time during the year, depending on their assignments. All Editorial Board members should expect to review at least 2-3 articles a year; each article can take 45-90 minutes to review. In addition, members are asked to write 1-2 short articles (i.e., editorials, columns, commentaries, briefs, etc.) each year. Monthly commitment could be as much as 2-4 hours.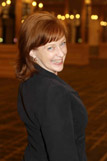 Lucy Bradley-Springer, PhD, RN, ACRN, FAAN, Editor, Denver CO


2015 JANAC Editorial Board Members:
John Brion, Shua Ballout, Carol Bova, Gwen Childs, Joseph DeSantis, Emmerentia du Plessis, Sara Looby, Patrice Nicholas, Carl Kirton, Wei Ti-Chen, Donna Roberson, Kimberly Adams Tufts, Kenn Kirksey,Donna Gullette, Kristen Overstreet-Managing Editor, Mercedes Simoncelli-Elsevier

2015 Board of Directors Liaison to JANAC: Joachim Voss
Founding Editor & Editor Emeritus: Jeanne Kalinoski
Editor Emeritus: Richard L. Sowell
Committee Chair: Please click here to submit your Quarterly Report electronically. Click here to submit your Annual Committee Report.
To view the JANAC Editorial Board's Quarterly Report, please click here.