The Conference Committee is responsible for planning ANAC's Annual conference.
The committee's primary responsibilities center on the conference's educational content including choosing the conference theme, speakers and session topics.
In addition, the committee plans all social and entertainment events related to the conference. The committee works collaboratively with the ANAC management team to bring about a successful conference. Membership on the committee can at times during the year be time intensive. Potential members should be able to make a substantial commitment as the annual conference is one of our primary member services and one of our largest sources of revenue.
Committee Time Commitment: November thru May: approximately 4-5 hours per month. Conference Calls occur during this same time period occur approximately every 3-4 weeks.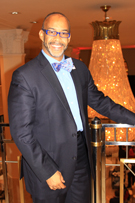 2014 Annual Conference Committee Chair: Sheldon Fields

2014 Conference Committee Members: Joe DeSantis, Diane Clements Walton, Sande Gracia Jones, Donna Taliaferro, Mitchel Wharton
2014 Board Liaison: Don Kurtyka
Committee Chair: Please click here to submit your Quarterly Report electronically. Click here to submit your Annual Committee Report.
To view the Conference Committee's Quarterly Reports, please click here.