Career Center
Interim Director of Operations - Association of Nurses in AIDS Care
BVU is pleased to announce
An Encore Fellowship Opportunity with
the Association of Nurses in AIDS Care (ANAC).
The Association of Nurses in AIDS Care is seeking an Encore Fellow to provide interim leadership to the organization following the departure of its executive director.
The mission of ANAC is to promote the individual and collective professional development of nurses involved in the delivery of health care to persons infected or affected by the Human Immunodeficiency Virus (HIV) and to promote the health and welfare of infected persons.
Responsibilities include:
Execute major projects, including ANAC conference in fall 2016.
Establish business development framework
Streamline business processes
Implement strategic initiatives
Manage day to day operations
Oversee membership services
Provide support to Board
Term: 1,000 hours over a 12-month period
Location: Akron, OH
Stipend: $20,000/year
The ideal candidate will have significant professional achievement in either the corporate or nonprofit sector, experience in health care services, and in non-profit governance.
To apply, submit online application by following this link Apply for ANAC Fellowship.
To learn more about ANAC, please visit ANAC Web Page.
The BVU Encore Fellows Program matches the talents of highly skilled professionals with local nonprofits to engage a transformative project that benefits the community. For more information, visit our webpage BVU Encore Fellowship Program.
Read the full job description here.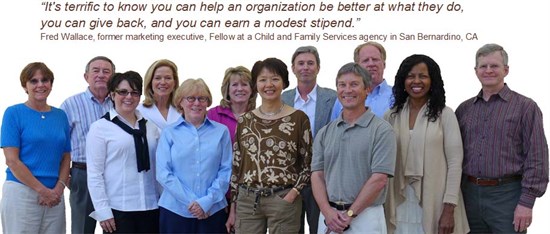 Posted 5/11/16
---
Nurse Practitioner, Montefiore Medical Center
For over a century, Montefiore Medical Center has been synonymous with quality healthcare. As the University Hospital for Albert Einstein College of Medicine, our mission has always been to heal, teach, discover and to advance the health of the communities we serve. Our advancements are only made possible by the high caliber of talent we employ. And it is these extraordinary people who make us one of the most prestigious academic medical centers in the nation.
Currently, we are seeking a Nurse Practitioner to join our astonishing research team. In this position, you will participate in clinical research studies focused on the testing of vaginal products in development aimed at preventing the transmission of HIV and other sexually transmitted diseases. Responsibilities include providing routine gynecologic and STD care to HIV+ and HIV- patients; assessing the health status of assigned study subjects; coordinating and managing their care; providing counseling regarding HIV and contraceptive use; administering study medications and questionnaires; communicating research findings; and assisting with protocol preparation and reporting.
To qualify, you must have current NYS NP licensure and at least 5 years of experience as a nurse practitioner (includes experience in women's health). GYN experience is also required, as is experience conducting clinical research studies (preferably HIV/AIDS trials) involving human subjects.
Montefiore Medical Center's advancement in the healthcare industry is also yours. Take your career to the next level by joining our trek to become the world's leading healthcare system. For more information and to apply, visit montefiore.org/careers or send your resume to Maria D'Oro at mdoro@montefiore.org. We are an equal opportunity employer.
Posted 3/7/2016
---
Registered Nurses/Registered Dieticians Needed in NYC, LA and Miami
inVentiv Health in partnership with Theratechnologies is looking for motivated Registered Nurses/Registered Dieticians in the Chicago, New York, Los Angeles, and Miami markets. We are looking for individuals who are passionate about HIV/AIDS and teaching patients.
The Clinical Educator will be involved with engaging small groups of patients and advocacy organizations on a once a week basis to help provide disease state education for lipodystrophy. The aim is to equip patients with a deeper understanding of the disease state and the various therapies on the market.
The Clinical Educator must have 2+ years of HIV experience, be comfortable with public speaking and have a flexible schedule. Clinicians must have availability to do 1-2 programs a week either during the lunch, evening or weekend hours.
With over 14,000 employees in 70 Countries, inVentiv Health offers best-in-class clinical development and commercialization services to global healthcare companies seeking to accelerate performance. Our people provide the brilliant ideas, valuable insight and relentless energy that drive biopharma products from lab to life.
Here at inVentiv Health Selling Solutions, a critical segment of our Commercial Division, we offer innovative promotional and educational resources that deliver customized commercial solutions to the world's leading healthcare companies so they can focus on what they do best - prevent and treat disease.
Click on one of the following links for more information in each market:
Miami, FL - http://commercialcareers.inventivhealth.com/jobs/4761482-bilingual-perdiem-hiv-nurse-educator-miami-fl
Los Angeles, CA - http://commercialcareers.inventivhealth.com/jobs/4764754-perdiem-hiv-nurse-educator-los-angeles-ca
New York, NY - http://commercialcareers.inventivhealth.com/jobs/4761475-perdiem-hiv-nurse-educator-new-york-ny
Posted 2/21/2016
---
Institute for Clinical Research, Inc. Washington, D.C.
Position:
The Research Site Manager is part of a team responsible for the management, oversight, performance evaluation, training and monitoring of domestic and international clinical research sites that are part of networks that participate in NIH-funded clinical trials in HIV prevention and therapeutics as well as other infectious diseases research. Incumbent is directly responsible to the Executive Coordinator of the Research Management Team.
Incumbent will:
a) Conduct quality reviews of clinical research site performance;b) Provide training, technical assistance, and advice to site coordinators concerning protocol implementation, regulatory issues, ethical issues, data management, and quality management;c) Interact with the research network statistical and data management centers and operations centers;d) Serve on network committees, working groups and protocol teams as assigned.
The position is headquartered at the VA Medical Center in Washington, DC; responsibilities will require occasional US and international travel to network meetings and to clinical research sites for training and evaluation.
This is a position with the Institute for Clinical Research, a not-for-profit research organization affiliated with the Washington DC VA Medical Center, and is not a federal position.
Salary commensurate with credentials and experience.
Requirements:
Graduation from a nationally accredited BSN nursing program, a MPH program or other relevant Masters level program
For R.N. candidates, current professional nursing license
Knowledge and experience with design and conduct of clinical research, management of sites conducting clinical trials, and federal regulations and guidelines pertaining to clinical research
Previous clinical trials experience, preferably in the field of HIV/AIDS
Proficiency in MS Office, Word, Excel
Advantageous Qualifications:
At least two years of experience in the field of HIV/AIDS
Previous experience in clinical trials networks funded by the NIAID, Division of AIDS
Certification in clinical research
Interested, qualified candidates please send C.V. and cover letter to

ResearchManagerSearch@gmail.com
Posted 2-17-201
---
Advertise job opportunities with ANAC
If you have a position available, advertise here and reach over 25,000 users who hit ANAC's website each month:
Classified advertising rates are $1.00 per word with a $50.00 minimum charge.
Ads are posted within one to five business days of receipt of payment in full for the cost of the ad, and remain posted on the site for 60 days. For an additional $100, ANAC will add your job announcement to our Group Emails (dist. 1,800).
If paying by credit card, please allow seven to ten days for posting from the date ANAC receives your payment.
Ad copy must be sent electronically to

Erin

in a word processing document (such as Word). Once the ad is received electronically, ANAC will contact you within three business days to advise you of the cost of your ad.You must provide a valid e-mail address or phone number so that we may contact you.
You may pay for your ad by credit card, check or money order in U.S. funds. Do not send credit card information in the e-mail. Contact ANAC by telephone at 800-260-6780 or (330) 670-0101, or at our address, 3538 Ridgewood Road, Akron, Ohio 44333-3122, or email questions to Erin.