ANAC2013

Invited Speaker
A Biopsychosocial Overview of Aging with HIV: What to Expect?
Friday November 22, 2013
10:30 am - Noon
International C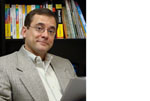 David E. Vance, PHD, MGS

By 2015, nearly half of those with HIV will be 50 or older. This optimism of aging with HIV is a testament to the quality of care developed for those infected with this disease. Yet, despite better prognosis and management of HIV, concerns mount that as people age with this disease, many will develop problems (i.e., cognitive deficits, co-morbidities) that may hinder their ability to age successfully. This presentation will explore the biological, psychological and neurological, social, and spiritual aspects of aging with HIV within two accepted frameworks of successful aging. From this, a portrait of the person aging with this disease will emerge along with strategies to help augment the aging process in such individuals.

Dr. David Vance holds a Master's in Gerontological Studies, a Master's in Applied Developmental Psychology, a Ph.D. in Developmental Psychology, and completed 3 years of an NIA postdoctoral fellowship studying cognitive aging and cognitive remediation therapy. He has numerous skills working in a variety of settings (e.g., children's residential settings, mental retardation programs, Alzheimer's daycare centers, nursing homes, caregiver's homes). He also teaches statistics and research methods and has particular expertise in structural equation modeling. He is actively pursuing research in cognitive aging, cognitive remediation, and aging with HIV. Also, he currently serves as Editor-in-Chief for Nursing: Research and Reviews. Dr. Vance has over 190 publications including over 150 peer-reviewed publications, numerous book chapters, and editorials, and has presented his research prolifically in local, national, and international venues.