ANAC2013

Invited Speaker
Let's Meet in the Middle:
Ensuring Optimal Engagement and Retention for HIV-Infected Adolescents
Saturday, November 23, 2013
8:45 am - 10:15 am
International D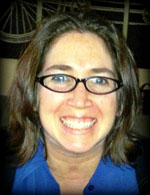 Lisa B. Hightow-Weidman, MD, MPH
Associate Professor of Medicine
Department of Infectious Diseases
University of North Carolina-Chapel Hill

Dr. Hightow-Weidman has been engaged in clinical and behavioral research focusing on HIV among men of color in the southeastern U.S. for more than a decade. She has worked extensively to develop linkages with the community and has a documented history of success in reaching and working with sexually diverse young men. Dr. Hightow-Weidman's research interests include primary and secondary HIV prevention interventions for gay/bisexual/non-identifying men using both the Internet and other technologies (e.g. mobile phones, SMS texting, "apps"), adolescents, acute HIV infection, and linkage and retention in care for young men of color.
n addition to her research activities, Dr. Hightow-Weidman maintains a large HIV continuity clinic at UNC where she specializes in treating adolescents and young adult MSM.
In this presentation we will discuss the barriers to engagement and retention in HIV care for adolescents and young adults, including the importance of developing a comprehensive transition plan for those youth moving from pediatric to adult clinics. Strategies to more effectively engage and retain adolescents and young adults in HIV care will be presented including the use of social media, texting and technology-based tools. Secondary prevention including addressing substance use and sexual risks behaviors will be discussed.