ANAC2013

Invited Speaker
STI Update
Friday, November 22,2013
10:30 am - Noon
International D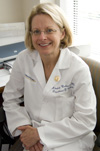 Kimberly Workowski, MD
Professor of Medicine, Emory University
Division of Infectious Diseases
Coordinator, CDC STD Treatment Guidlines
The term sexually transmitted diseases (STDs) is used to refer to a variety of clinical syndromes caused by pathogens that can be acquired and transmitted through sexual activity. Sexually transmitted diseases (STDs) remain a major public health challenge in the U.S. CDC estimates that there are approximately 19 million new STD infections each year, which cost the U.S. healthcare system $16.4 billion annually. Some of these infections can have acute and long-term health consequences.
Less than half of people who should be screened receive recommended STD screening services. Undetected and untreated STDs can increase a person's risk for HIV and cause other serious health consequences, such as infertility. STD screening can help detect disease early and, when combined with treatment, is one of the most effective tools available to protect one's health and prevent the spread of STDs.
Untreated gonorrhea and chlamydia can result in pelvic inflammatory disease in women. Each year, STDs cause at least 24,000 women in the U.S. to become infertile. Untreated syphilis can lead to serious long-term complications, including neurologic, cardiovascular, and organ damage. Syphilis in pregnant women can also result in congenital syphilis (stillbirth, physical deformity, and neurologic complications). Persons diagnosed with gonorrhea, chlamydia, herpes, or syphilis are at increased risk for HIV acquisition.
Physicians and other health-care providers play a critical role in preventing and treating STDs. CDC publishes guidelines for the management and treatment of STDs that discuss screening, diagnostic evaluation, prevention strategies, and treatment. These recommendations are a source of clinical guidance, and health-care providers should consider the clinical circumstances of each person in the context of local disease prevalence. These guidelines are applicable to various patient-care settings, including family-planning clinics, private physicians' offices, managed care organizations, and other primary-care facilities.