ANAC2013

Invited Speaker
What is this thing called the Patient Centered Medical Home?
Friday, November 22, 2013
1:45 pm – 3:15 pm
International B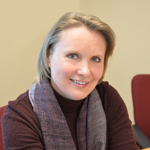 Andrea Norberg, MS, RN
Executive Director and Adjunct Assistant Professor of Nursing
Francis Xavier Bagnoud Center
Andrea Norberg, Co-Principal Investigator, HIV-Medical Homes Resource Center (HIV-MHRC) is the Executive Director and Adjunct Assistant Professor of Nursing within the François Xavier Bagnoud Center (FXB Center), School of Nursing, University of Medicine and Dentistry of New Jersey. Ms. Norberg is a community health clinical nurse specialist with greater than 20 years of experience in a wide variety of roles that have included pediatric acute care nursing, nursing management, healthcare consulting, strategic planning and public health. She has a Bachelor of Science in nursing degree from the State University of New York at Buffalo and a Master of Science in Community Health Nursing degree from the University of Rochester. She began working with the FXB Center in 2002 as the Director of Administration and Finance, became the Interim Executive Director in 2008 and was appointed Executive Director in March 2011. In addition to the HIV-Medical Homes Resource Center she is the Principal Investigator of the AIDS Education and Training Center's National Resource Center (AETC-NRC), the NJ AETC Local Performance Site, the National Resource Center for Adolescent HIV Prevention and several state funded HIV programs focused on quality improvement and education and training of healthcare providers caring for patients living with HIV.
U.S. health care reform efforts are focused on three main goals: to improve the experience of care, to improve the health of populations and to decrease costs. The primary care medical home, also referred to as the patient centered medical home (PCMH), advanced primary care, and the healthcare home, is a promising model for transforming the delivery of primary care in pursuit of these goals.
The medical home model originated in the care of children with special health needs and was endorsed by the American Academy of Pediatrics (AAP) in 1967. In March 2007 Joint Principals of the PCMH were developed by the AAP, American Academy of Family Physicians (AAFP), American College of Physicians (ACP), American Osteopathic Association (AOA). Since then it has become the model of care supported by Accountable Care Organizations under the Patient Protection and Affordable Care Act (PPACA).
This presentation will describe the Patient Centered Medical Home (PCMH) model of care delivery and discuss why this model and formal recognition as a PCMH has become important to people living with HIV and their healthcare providers. It will summarize the history and driving forces behind the PCMH movement in the US, including the role of PCMHs in improving patient access to comprehensive primary care and advancing quality outcomes of care. The presentation will provide an overview of practice transformation in PCMH development, introduce the HIV-Medical Homes Resource Center (HIV-MHRC), and also provide a forum for discussing the role of nurses as leaders and change agents in advancing high performing primary care for persons living with HIV through PCMHs.