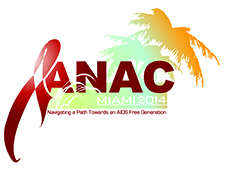 ANAC's 27th Annual Conference
November 6-8, 2014
Conference Overview:
The Conference will address international and domestic issues related to HIV and AIDS for nurses new to the specialty as well as experienced clinicians and researchers. Various learning activities, expert speakers, symposia, roundtable discussions, and presentations (practice, education/administration, and research) will address HIV nursing issues related to the conference objectives. Nurses play a critical role in the delivery of healthcare, educational, and counseling services to individuals with HIV infection and AIDS. The 2014 conference has been organized to meet the learning needs of all levels, from novice to expert. There will be a track for Advance practice Nurses at this year's Conference. Researchers, educators, administrators, and clinicians will appreciate the abstract sessions presented by peers from across the nation
Conference Objectives
Identify current evidence based research pertaining to HIV/AIDS bio-medical treatment advances (PrEP, Vaccines, Microbicides, Treatment as Prevention);
Evaluate the most up to date approaches in clinical practice with an emphasis on highly impacted populations;
Create a collective vision of what an AIDS free generation might look like;
Discuss the role of nurses in impacting the HIV/AIDS treatment cascade and current prevention measures;
Discuss the leadership roles of HIV nurses in helping to shape an AIDS free generation.
The Association of Nurses in AIDS Care is accredited as a provider of continuing nursing educational by the American Nurses Credentialing Center. Participants are awarded at least 14.0 contact hours by the Association of Nurses in AIDS Care.
2014 Conference Committee
Sheldon Fields, 2014 Conference Chair
PhD, RN, FNP-BC, AACRN, DPNAP, FAANP
Miami, FL
Don Kurtyka, Board Liaison
PhD, ARNP, BC, MS, MBA
St. Pete's Beach, FL
Members
Diane Clements-Walton
RN, MS, CNS
Chicago, IL
Joe De Santis
PhD, ARNP, ACRN
Miami, FL
Sande Gracia Jones
PhD, ARNP, ACRN, CS, C, BC
Fort Lauderdale, FL
Donna Taliaferro
PhD, RN
St. Louis, MO
Allison Webel
PhD, RN, BSN
Cleveland, OH
Mitchell Wharton
PhD, RN, FNP, CNS
Rochester, NY