ANAC2013

Research Workshop
Designing Randomized Controlled Clinical Trials to Test Nursing Interventions
Wednesday, November 20, 2013
1:00 pm - 6:00 pm
Augusta II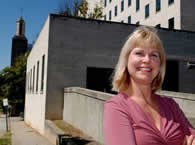 Dr. Marcia Holstad, DSN, FNP-BC, FAANP, FAAN is an Associate Professor, Marcia Stanhope Professor in Public Health, Nell Hodgson Woodruff School of Nursing and Assistant Director of Clinical and Social Science Integration, Emory Center for AIDS Research. Her HIV/AIDS research interests include developing and testing interventions related to HIV+ women, adherence to antiretroviral medications, use of risk reduction behaviors, use of technology (smart phones, mobile app) to convey health messaging, palliative care, HIV/aging, and motivational interviewing. She has been PI on 4 R-level funded projects and co-I on 2 R-level projects. She currently leads an R01 to develop a smart phone mobile app to promote adherence in rural Georgia and an R01 to test the efficacy of providing early palliative care plus motivational interviewing to persons with a new AIDS diagnosis. She is also a co-investigator with the Emory WIHS project (Women's Interagency HIV Study). She includes both behavioral and clinical outcomes in her research. She has served on NIH Scientific Review study sections. Her projects are funded by NIH/NINR.
She has taught at the Nell Hodgson Woodruff School of Nursing for over 20 years on all levels (BSN, MSN, PhD) and in addition provides primary care to HIV infected women at the Ponce Center of Grady Health System. She is also trained in motivational interviewing and is a member of the Motivational Interviewing Network of Trainers (MINT). She received her doctorate in nursing from the University of Alabama in Birmingham.

Objectives: At the end of this Workshop the participants will be able to:
• Articulate how to develop a nursing intervention;
• Explain how to develop a randomized trial to test the efficacy of the intervention;
• Develop an outline for a RCT grant proposal.
This continuing nursing education activity was approved by the Ohio Nurses Association (OBN-001-91), an accredited approver by the American Nurses Credentialing Center's Commission on Accreditation.